[ad_1]
Grant Nundhirribala drove all night. "From Maningrida, 2 p.m., nonstop," he boasts as children and grandchildren spill out of a silver double-cabin Hilux with red dirt trim. "I was refueling at Jabiru, then from Jabiru to Katherine. I feel tired but…at every festival when you call me…I come right away.
The people of Beswick are delighted to see him. He is soon seated in royal command on the shipping container stage of the Djarmalak Festival, still wearing his Australian flag trucker cap, his family transformed with white paint and red lap-laps (pagnes) in Red Flag dancers.
His songs come in short, urgent bursts, tap dancing rings out and dancers kick up sand as the big blue sky fades to yellow. This one is called Sunset. Plane talks about the "big bird" that amazed his grandfather during the Numbulwar mission. Each is followed by a roar of appreciation that acts of balanda (white man) seldom elicit here.
"I'm Songman for Red Flag," he later explains. It is a role conferred by birth, transmitted from father to son. The Red Flag songs are linked to the Macassan sea traders from Indonesia, who began visiting northern Australia around the mid-18th century.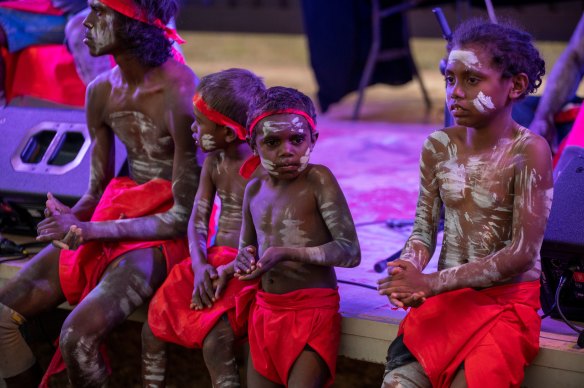 "Every bedtime my dad used to sing all these songs, all the red flag songs and the smoking ceremony songs," he says. "I listen all the time. When I went hunting with my father; always sing. »
How many songs? "A thousand songs," he says. "Songs from my grandfather. Too."
How does he follow them? He hits his head. "All here."
Djarmalak is an annual celebration in memory of Nundhirribala's nephew, local legend now called Balang TE Lewis, music, film and theater star of The song of Jimmy Blacksmith at The King of Shadows. For many years Lewis' Walking With Spirits festival has put this small community 90 minutes east of Katherine on the map for a limited number of tourists allowed to visit the spectacular site of nearby Beswick Falls.
Since his death in 2018, the party has moved here to the Djilpin Arts Center community hub, run by his widow, Melbourne arts veteran Fleur Parry, in consultation with Jawoyn alumni. She sits on the steps while visitors learn about bush medicine and grass weaving, or shop for local art and textiles.
"It's a matter of cultural survival," she says. "Part of my job is to constantly consult and work with my board. I'll say 'What do you want to do?' And every time, without fail, "We have to keep the culture alive because we see it fading away every day."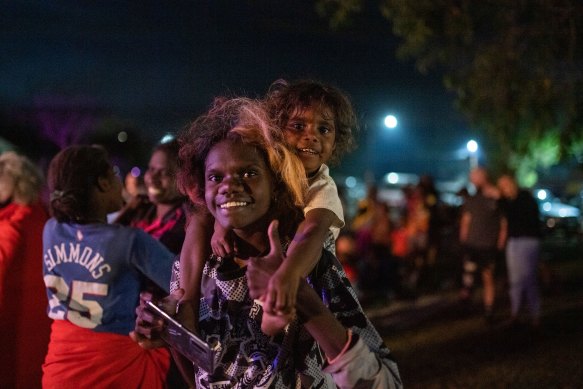 "The dance is super important, the painting…but the most important thing is the stories. It's a bit of a tapestry and I guess the cultural dispossession that's happened is pulling on the threads, but what's essential is the language.You could have a hundred dancers but if there is no singer, they cannot stand up.
Songs from Walking with the Spirits was one of Lewis's most inspired survival projects. In 2007 he recorded four singers from Arnhem Land with new musical backing by himself, Melbourne guitarist Ross Hannaford, Gurrumul bassist Michael Hohnen and others. Each of these singers (Hannaford too) has since passed away, but their voices are now set to take another step into eternity on streaming services around the world.
The embrace of Apple Music, which negotiated an early release of the songs this week, seems to illustrate a growing thirst for this kind of material. Ngulmiya, for example, is Grant Nundhirribala's new album with the Budapest Art Orchestra, sung in the Wubuy language interspersed with old Indonesian words; language that tells a long story in itself.
Then there's vocalist Yirrkala Rrawun Maymurru, recorded by classic electronic artist Nick Wales for a Sydney Dance Company production a few years ago. His just-completed collaboration with pianist-composer Sophie Hutchings promises another frontier for old songs infiltrating the landscapes of contemporary music in 2023.
The new drones are neither here nor there for Lewis' sister, Loretta George, a teacher at Wugularr School in Beswick. "You can mix it all up," she says, as long as the stories are told faithfully.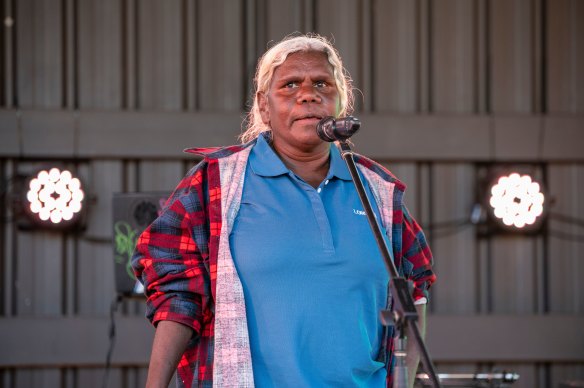 "Some of the children know their culture, but some of them don't know their country, their stories. That's why we learn about the country in school… This one," she says, pointing to the Walk with the spirits CD, "you really want them to learn and really start singing because it's [disappearing]. I told the school crowd to let the young boys listen. Some of them they know how to do the didgeridoo but somebody needs [to be] the singer. The narrator."
She names a few boys who are learning, but the lack of living teachers worries her. The songs of the late Victor Hood and Jimmy Wesan, sung in endangered languages ​​Dalabon and Rembarrnga, might have been saved by the miracle of digital streaming, but "they need to hear it [live] sing loud, young people," she said. "What's really nice is that one of the older men can get that back for the younger ones, to keep it alive."
Loading
The headliner of today's Djarmalak is Torres Strait hip-hop artist Mau Power, a powerful presence on and off stage. The sky is dark purple when he goes on stage. "We come from the Torres Strait to share the culture. The dancers come and call the spirits," he says as they roam the stage in stunning plant fiber capes and headpieces, brandishing paddles stylized as downward-pointing spears. "Raise your hand and feel the energy of our ancestors here with us."
As the DJ kicks off, the tour gets a bit eerie as a pack of normally calm city dogs noisily surround the dancers on their way back to the dressing room. Later, Power and his team are convinced that the animals have seen the ghosts. "When we call the ancestors, the spirits come in the gear. They can actually haunt you. It happened to our surprise all the time," he says.
"In ancient times, they had turtle shell masks; the eyes are mother-of-pearl. If you want to move the masks, you have to remove the eyes because they are actually looking at you. And if you don't, it haunts you. Even the curators of the British Museum know this. Because the elders came and told them.
On a good day like this, the ghosts of Elders are everywhere.
"When I play in these places, I can feel my father next to me," says Nundhirribala, back in his Hilux and preparing for the next leg of his journey. He pinches his arm. "When I [feel] goosebumps, I know my dad is next to me. And I sing very loudly. Everywhere he follows me, no matter where.
His father is always passing on new songs, he adds. "When he sings in my dream, the next day I get up, take my clap stick and sing. Follow the dream. And then I tell the yidaki player, follow me and then I show all the dancers the new dream, new songs.
Is he worried about the disappearance of the elders?
"No," he said, laughing. His language is stronger than some others. "I have my eldest son. He has got everything. He is twenty years old. He learned when he was a little boy. And he's my grandson," he says, pointing to a child of maybe six climbing onto the ute. "My son's eldest son. He also sings.
So the songs are safe? He nods once. "Sure."
Songs from Walking with the Spirits is available to stream on Apple Music now, other services from Wednesday. Michael Dwyer traveled to the Djarmalak Festival courtesy of Djilpin Arts.
[ad_2]
Source link